On Friday, April 2, the Northwest Animal Rights Network welcomed the Global Anti-Hunting Coalition as they stopped into Seattle in their first stop on their 40-state Compassion for the Animals Road Expedition. Together they held the Funeral Motorcade for the Sea Lions in light of the recent new stories of sea lions having been shot to death in Puget Sound. The culprits were fishermen, shooting seals who were guilty merely of the crime of eating. In light of such wanton killing, NARN and GAHC are taking a stand against such a gross display of greed and arrogance, not only for the plight of the sea lions, but for all animals who end up having their lives sacrificed with no regard whatsoever.
Despite the weather bringing blustery winds reaching 30 mph, rain bursts, and a high of no more than 45 degrees, 20 cars took part in the motorcade, drawing Q13 News to the scene. After a eulogy in Volunteer Park given by Peter Keller of NARN, as well as a speech by Anthony Marr of GAHC, the motorcade assembled and drove across the 520 floating bridge, dodging the cresting waves splashing over the sides of the bridge driven by high winds, and reconvened in Bellevue at the Bellefields Park. There another speech was given and the participants networked together to continue this work forward to give voice to all animals being killed at the hands of human self-interest.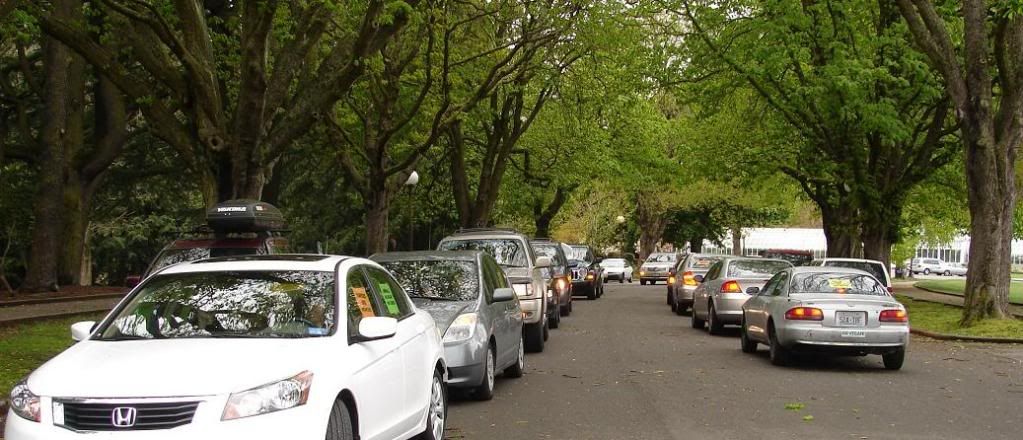 The common argument that fishermen give is that the sea lions "eat too much salmon," so to them it's OK to kill sea lions so that fishermen can kill the salmon instead. However, salmon comprise less than 5% of the sea lions' diet, and that sea lions in fact benefit the salmon by targeting the other two dozen species of predatory fish that prey upon salmon in far greater quantities–if anything needs to be sacrificed, it should be fishing, not sea lions.
In our grief we speak, that all killings of sentient beings must end!
The eulogy given was as follows:
Greetings ladies and gentlemen,

We are gathered here today to honor ten individuals whose lives have been tragically cut short over these past three months. Here in Puget Sound, ten of this region's most distinctive animals were found shot to death, their only crime being that they were born as sea lions, and merely living as nature intended.

No longer will they be able to experience the joys of the open sea, of lounging in the sun, playing on the shore, of catching fish. They were killed by predators, an invasive species not native to this region, one who thinks fish was theirs and theirs alone. Humans were responsible, the only species of animal that is motivated by greed, and it was greed that motivated them to shoot to death these unfortunate creatures.

Many top minds throughout history hace said the greatness of a society can be judged by hoe well they treat animals, and the fact that we deem it appropriate to kill animals simply because we feel they are inconvenient really calls into question how far we've advanced.

Today we grieve not only the tragic death of these indiviuals, but we are here to pay homage to all animals who have paid the ultimate price in service of mankind's greed and arrogance.

The next time anyone encounters a dead animal, whether it be on the shores or fields with a bullet in its body, or it be shrinkwrapped on a grocery shelf, they should bow their heads in reverence to the life that was sacrificed, and make a pledge to stand up and say–the killing has got to stop!

Let us now give a moment of silence to honor the dead.

(pause)

Thank you very much, and let peace be with you.